Product Description
220v smd 2835 Round AC LED Module process uses disc light board, model: GY3501, current 0.267A, power: 35W, luminous flux 3581 lm, luminous efficiency 108.3 lm/w, made of aluminum alloy material, resistant to high temperature, moisture Waterproof and leakproof. For ceiling lamps, panel lights and floodlights The light panel is a 1.25MM thick aluminum substrate. The perfect heat dissipation guarantees a long service life. 220v smd 2835 Round AC LED Module light source conversion board is covered by 112 smd 2835 LED lamp beads. Rate, white light source, guarantees absolutely uniform illumination, no flash, very good lighting effect, 5W ceiling lamp module can be directly installed on indoor ceiling and ceiling lamp panels, soft light, white, energy saving.
Shenzhen Dianjiang lighting co., LTD., Perfect advanced automated production equipment, strong r & d team, scientific and perfect quality, specializing in the production of led modules, ceiling light Led module, ceiling lights, uvc light, uv lamp, uv sterilizer lamp, uv germicidal lamp, uv disinfection lamp, solar street lights, led downlights, led flat panel.
220v smd 2835 Round AC LED Module video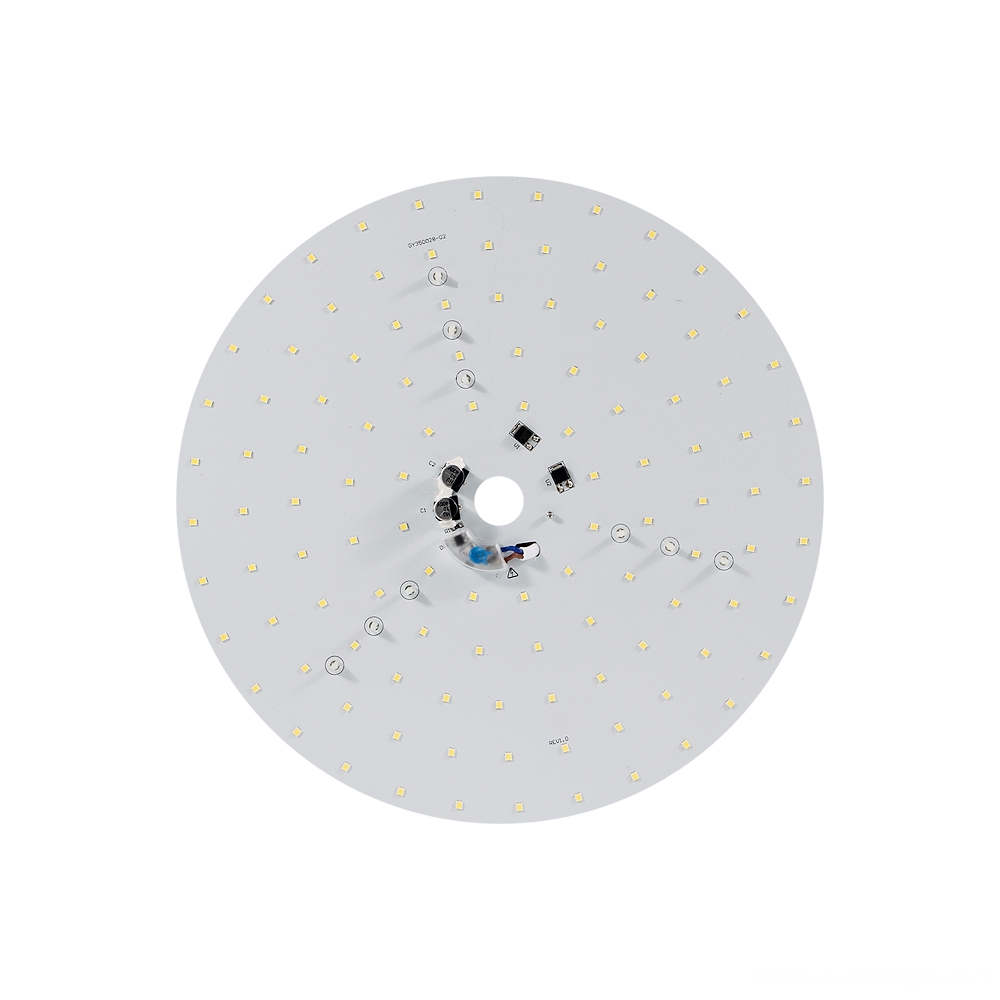 The front of 220v smd 2835 Round AC LED Module
Technical parameters of 220v smd 2835 Round AC LED Module:
| | |
| --- | --- |
| Type | GY350001-1 |
| Input Voltage | AC220-240V 50HZ |
| Input Current | 0.256A |
| Power | 35W |
| Power Factor | 0.61 |
| Insulation Class | ACW>2KV |
| Operating tempeture | -20~45℃ |
| | |
| --- | --- |
| luminous | 3553.7 lm |
| luminous efficiency | 107.6 lm/w |
| Color temperature | 5000K-6500K |
| Color rendering index | 88.3 |
| Size | Φ280*1.2mm |
| Weight | 191 g |
| Thermal Conductivity | 1.0W/m.K |
linear constant-current IC control, photoelectric integration, stable performance, reliable, long life.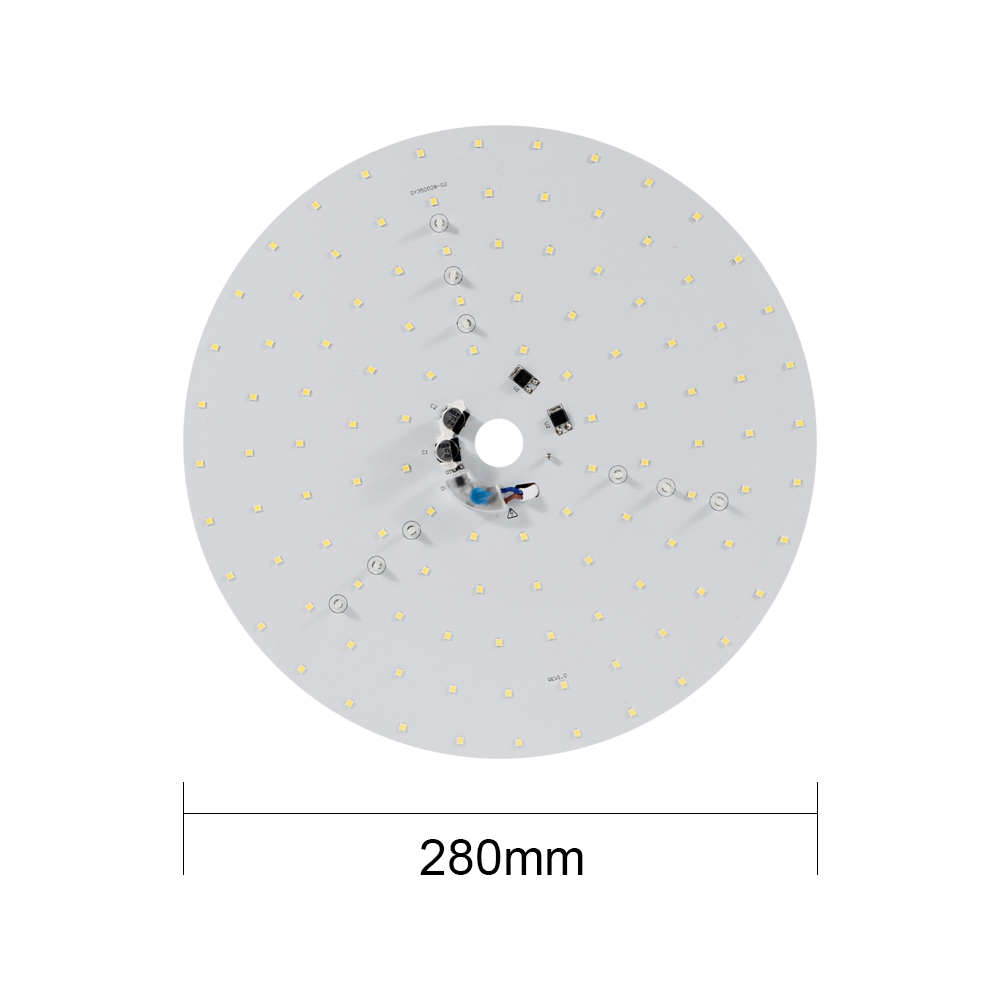 The size of 220v smd 2835 Round AC LED Module
Bottom plate of 220v smd 2835 Round AC LED Module
Aluminum substrate material, reasonable structural design, the base has mounting holes, easy to install.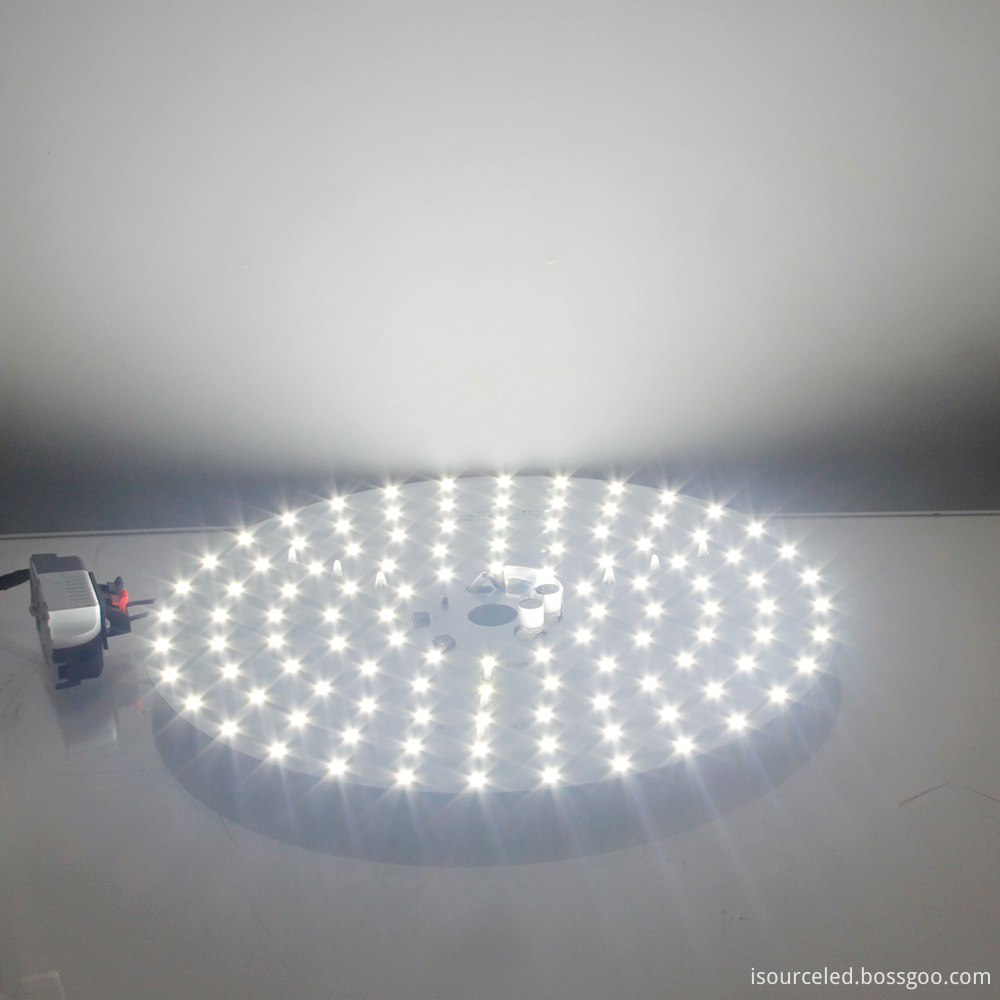 Luminescence Chart of 220v smd 2835 Round AC LED Module
The original packaging process is used to emit energy in the form of electrons. The product has no spot color circle, high color rendering, vibration resistance and good beam concentration consistency.
our team
There is no EMI, through the CCC, CE, EMC, LVD, SAA, UL, FCC, ROHS certification, etc.
Isource lighting Co., Ltd Pursue outstanding quality and illuminate colorful life.
If you have any question, please feel free to contact us.