Product Description
220V Dimming smd 2835 40W AC COB Module introduction:The process of 40W module consists of 112 class LED lamp beads and light board. The net weight is 239 G. Power: 40W, Model: CY4002, The yellow light source does not flash screen. It can be adjusted in three grades. Users can easily adjust the LED light through the intelligent lighting dimming system. Brightness, luminous flux 4116 lm, luminous efficiency 108.7 lm/w, PCB board is round, belonging to the dimming module series, so it can help reduce circuit cost and lamp size, Dimming 40W AC LED Module for Ceiling Light is 1.25MM thick aluminum Substrate, ceiling lamp, panel light, indispensable product material, ceiling lamp housing with dimming series of 40W panel light module, free assembly and lighting design is more convenient.The products are all international standards, we pay attention to quality, good products, good quality, good brand, and users can rest assured.
Shenzhen Dianjiang lighting co., LTD., Perfect advanced automated production equipment, strong r & d team, scientific and perfect quality, specializing in the production of led modules, ceiling light Led module, ceiling lights, uvc light, uv lamp, uv sterilizer lamp, uv germicidal lamp, uv disinfection lamp, solar street lights, led downlights, led flat panel.
220V Dimming smd 2835 40W AC COB Module video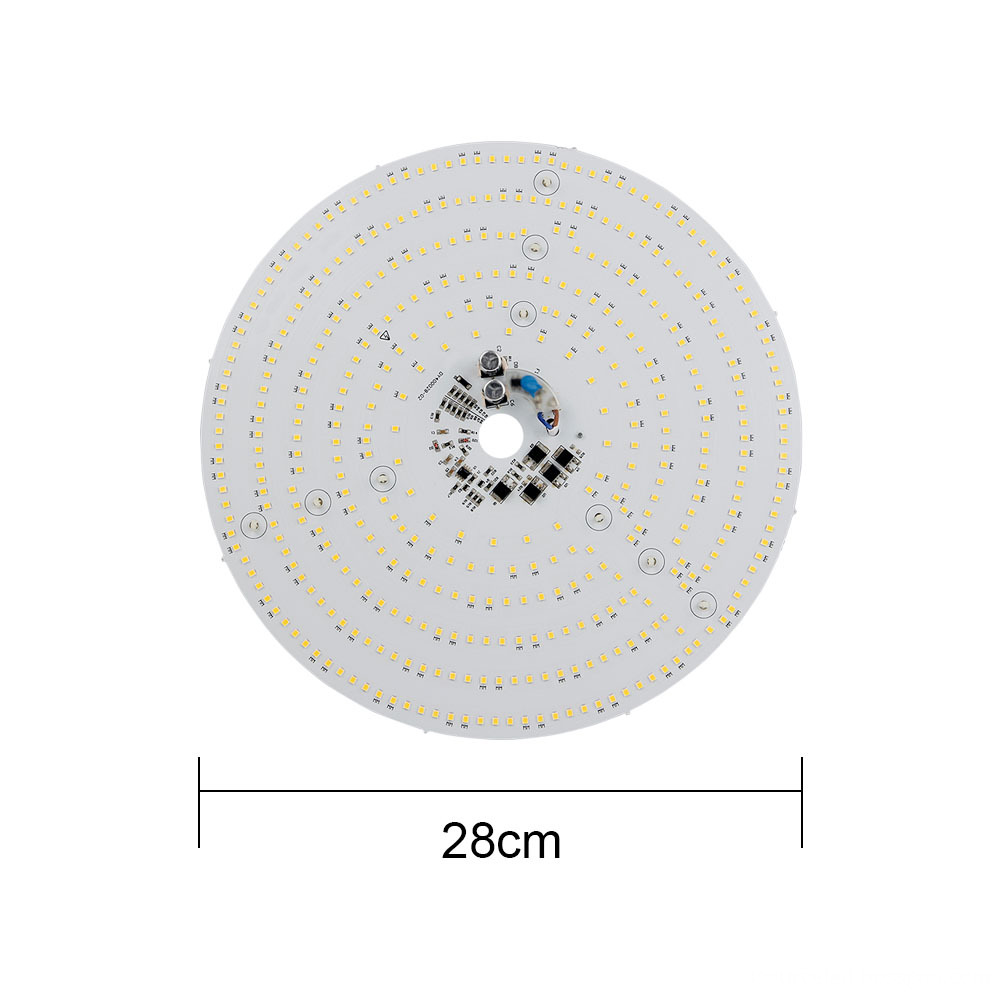 220V Dimming smd 2835 40W AC COB Module size
220V Dimming smd 2835 40W AC COB Module side
Technical parameters of 220V Dimming smd 2835 40W AC COB Module:
| | |
| --- | --- |
| Type | CY40 |
| Input voltage | AC220-240V 50HZ |
| Input Current | 0.278A |
| Input Current | 40W |
| Power Factor | 0.657 |
| Insulation Class | ACW>2KV |
| Operating tempeture | -20~45℃ |
| | |
| --- | --- |
| luminous | 3952.3 lm |
| luminous efficiency | 99.3 lm/w |
| CCT | 5053.8K |
| Ra | 94 |
| Size | Round 280*1.2mm |
| Weight | 239 g |
| Thermal Conductivity | 1.0W/m.K |
White light 40W panel light dimming module application:
Can be perfectly applied to ceiling lamps, panel lights, mining lamps, street lamps,
LED downlights, fluorescent lamps, projection lamps, etc.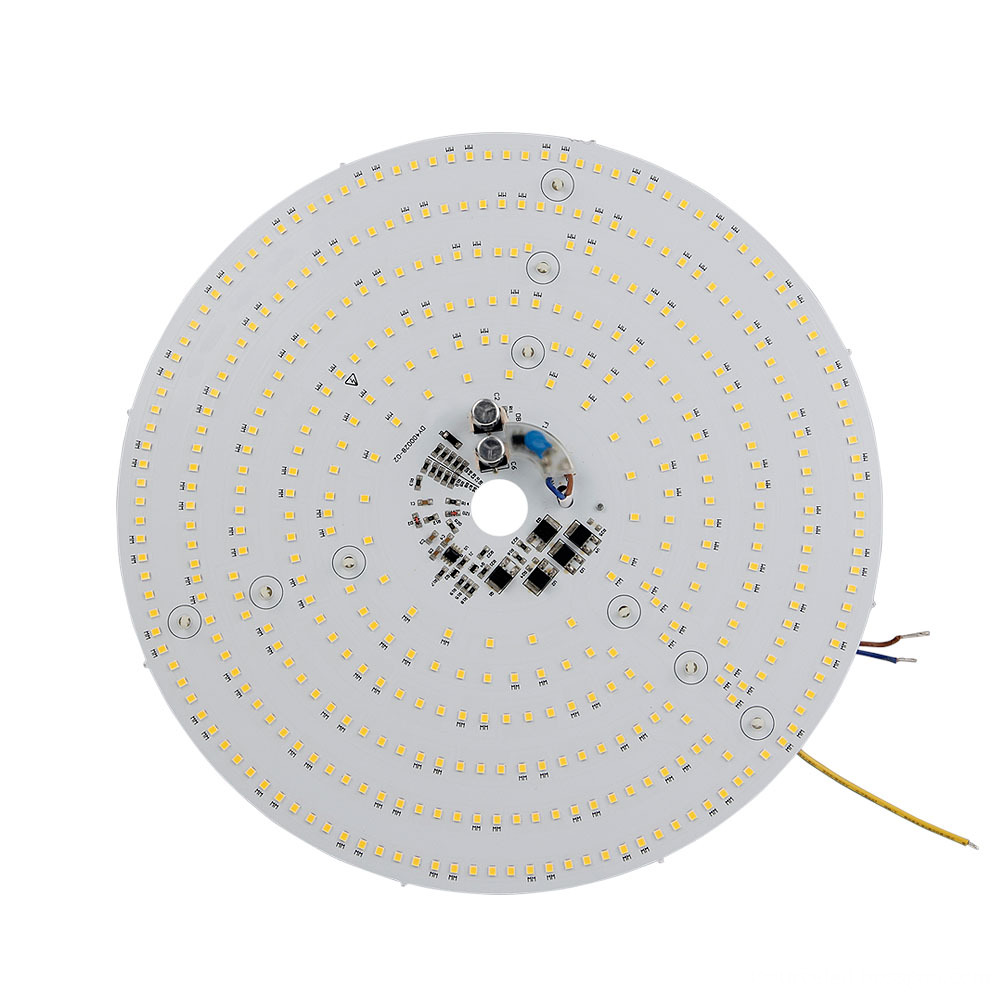 220V Dimming smd 2835 40W AC COB Module front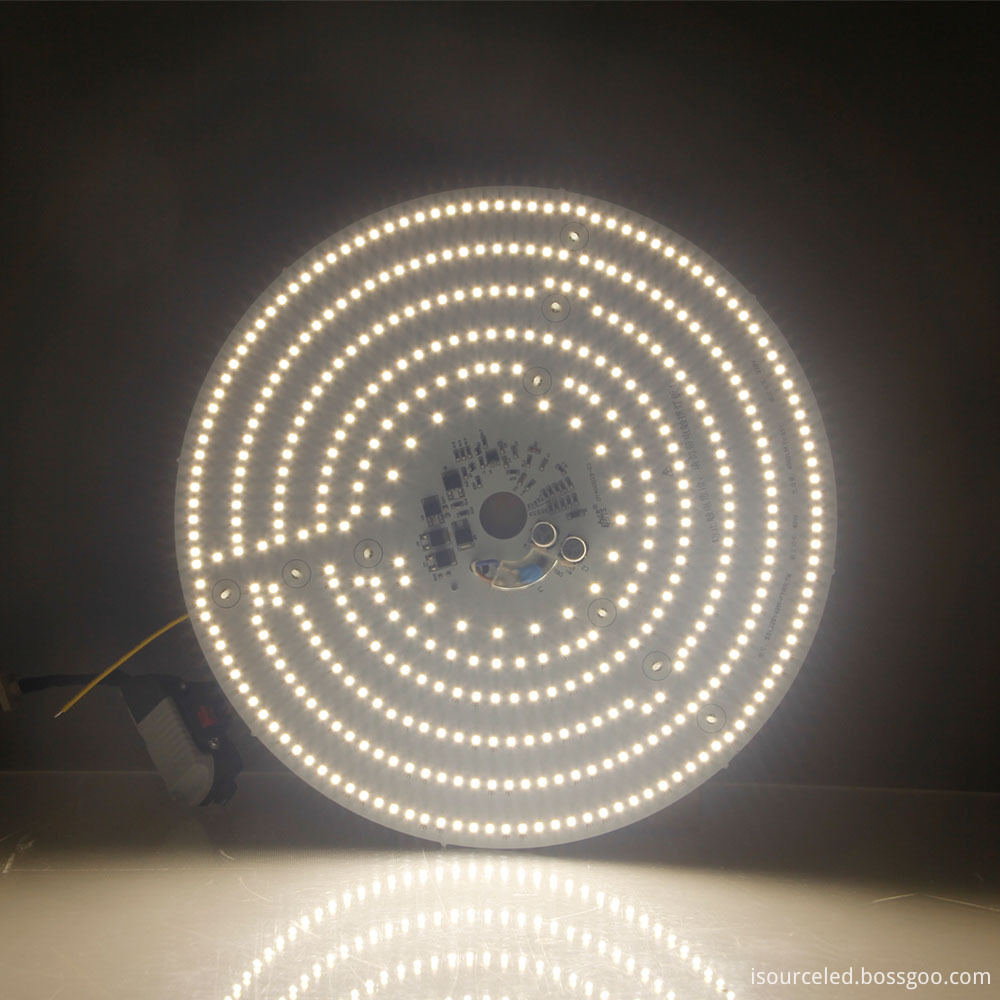 220V Dimming smd 2835 40W AC COB Module power supply diagram
White light 40W light board dimming module product features:
1.220V Dimming smd 2835 40W AC COB Module consists of 112 large-area LED beads and white light source.
2. linear constant-current IC control, photoelectric integration, stable performance, reliable, long life.
3. Three-stage integrated circuit design, the power change rate is within ±5% when the input voltage fluctuates between 220-240vac;
Constant power over voltage current protection function.
4. Overtemperature protection function, IC will automatically reduce the output current to control the temperature rise of the substrate ,
when the substrate temperature is too high.
5. Using PCT2835 patch LED bead, color rendering index is more than 80.
6. There is no EMI, through the CCC, CE, EMC, LVD, SAA, UL, FCC, ROHS certification, etc.
7. No ultraviolet , electromagnetic wave radiation.
8. The size of 40W PCB board can be customized according to customer requirements.
9. No need to drive, wiring can be, 3 years replacement, full light, no flash screen.
isourceled, Illuminate you and me, walk together.